"I'm back in the country that speaks the language of the heart:
Cara Italia: the world's first love."
- Wilton Barnardt, Gospel-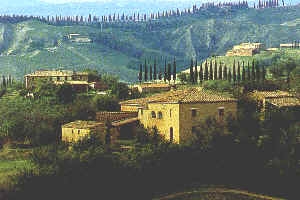 Let me take you on a ride.... close your eyes and you will smell it: olives, lemons and the scent of the bitter oranges. Rosemary and salvia and the heavy scent coming from the fields where the wine is growing. Or oilseed perhaps. Poppy bleeds among the wheat. In the distance blur pine trees. And the sky is violet.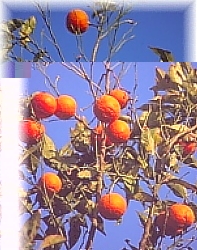 The steep mountains of the valley of the Brenner are behind us. A short glimpse to Bozen, the Dolomites and faded apple plantages and soon it is going out into the width of the plain of the river Po. The radio is playing Eros Ramazzotti and he's is in absolutely right place here.

Abandoned farmer's houses. A few venetian-looking towers with steep roofs Rice fields. Passing Mantua, Modena and Bologna. The heaven is leaden above the miserable plain. Little raindrops falling. We are passing the broad stream of the Po. But then: Afar the sky is blue and the band of the Apennin on the horizon. This we have to pass.

A few kilometers of the Emilia-Romagna, high up to the pass of Castiglione and through several tunnels. And on the other side finally Toscana.
Sun, the famous, violet sky, the first little groves of cypresses and pine trees ... what do you wish for more right now? Soon enough you leave the Apennin and drive down south into the valley of the Arno. It's not far anymore until Florence. You see the cupola of the cathedral: a picturesque red-hovering being in front of the wall of the escaping mountains. And you will understand each day a little bit more why the inhabitants are saying: No day should pass that I have to live without the view of the duomo.


We are approaching the town from the south: along blooming acacia, cork oaks, cycamore tree, cypresses and pine trees, passing the ancient church of San Miniato up to Piazzale Michelango.






High above Florence. The air is clean, surprising clean. The view is endless, until it is broken by the slopes of Fiesole - and a little beyond.
The belly pressed to the stony balustrade, you see the grey building directly opposite: the national library. The slender, pointed church tower of Santa Croce: Michelangelo's burial place. The hotel, just beside the waters of the glistening Arno, beside them the long-stretched building of the Uffici. Further along to the brown pinnacle tower of Palazzo Vecchio. The etherial cupolo of the cathredral and just left, little beside it, the octogon roof of the baptistery. And even farther left a red cupola again: here are resting the Medici-sovereigns and far on the horizon the pointed tower of Santa Maria Novella is piercing the sky: Florence, we are coming... click here