Thus, oh! Don't wake me up, and please speak low."

The Crouching Boy, also meant for this sacristy, is now in the Hermitage of St. Petersburg, but don't ask me how's it's gotten there.)

Behind the small white marble-altar are pencil-sketches by Michelangelo upon the wall, protected by a sheet of glass. And beside the door are finally the two plain stony plates for Magnifico and his murdered brother. It's easy to miss them, because their tomb was never finished. They are guarded by the Madonna Medici, a work of imposing majesty, completely by Michelangelo's own hand; and next to her by the Greek martyr-doctors Cosmas and Damian (made by his pupils), because these were the patron saints of the family.


Michelangelo spoke in his poem of "as long as misery and shame continues". What did he mean?

1530 was a miserable year for Florence. The republic had stopped existing, for it fell out of treason. It was swallowed by the Papal States and just this is a long and sad story which is worth to be told. Mind what the plundering of Rome (the Sacco di Roma) and the fall of Florence had meant for the souls of their time: a terrible bancruptcy of reason, a collapse.... It was a special tragedy for Michelangelo who was a fervent republican and had always treated rulers, dukes and popes as his equals - as Lorenzo de'Medici had taught him once in the old days, when he was living in Lorenzo's palace.

Michelangelo is getting ill, he thinks about to commit suicide. He has a psychologic crisis. The new Pope Clement VII is trying to soothe him. The artist is told by Clement secretary and Michelangelo's dear friend Sebastiano del Piombo, he - Michelangelo - shouldn't outdo himself.... But one of his friend writes:

"Michelangelo seems to be exhausted and skinny. I've talked lately with Bugiardini and Mini about him: we agreed he hasn't much longer to live when there's nobody who cares about him seriously. He's working too much, he's eating too little and is sleeping even less. For one year he's suffered terrible head- and throat ache..."


Outside again we fought our way through a crowd besieging the long market in the small street, but if you want to visit the church San Lorenzo you shouldn't be stuck for it's easy to dawdle away as much time as you want here.

San Lorenzo: It was the first church-building of the Renaissance, but the history of it goes back to early christian times. The first building was consecrated in 393, dedicated to the Martyr Lawrence who was burnt on a grill.

The red, austere brick facade looks the way it was when built between 1421 and 1469. Michelangelo had been commissioned by Pope Leo X to create a marble facade and he even quarried the purest marble in an area that was virtually inaccessible. There were casualties, Michelangelo himself was almost struck dead by a pillar that rolled down. When the work was finished, the pope had other plans. The blocks weathered on the beach of the Tyrrhenian Sea.

Inside we are met again by the cool grey strength that is typical of a Brunelleschi-church whose ideal was the classic, Roman-Greek style he had studied in Rome. Light grey arcade-bows and white plaster work. Beside the altar are two huge pulpits made by Donatello, square and bronzed wood from which Savonarola held his flaming speeches (besides other pulpits in other churches). And in front of the altar is a round commemorative plaque inserted in the ground, showing the place where Cosimo the Elder was buried down in the crypt together with his friend Donatello. It shows the inscription Pater Patriae, father of the fatherland.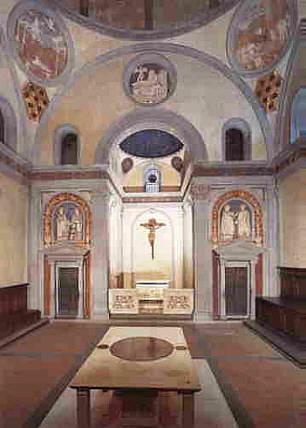 There's also the entrance to the Old Sacristy, a most interesting ensemble. The cupola is painted with the signs of the Zodiac on a blue star ground. It's the constellation of the 4th of July in 1442, but nobody knows what happened on this day. It's one of the mysteries Florence bears. In the middle of the chapel stands a huge marble plate where the priest put his clothes and benath it the sarcophagus of Giovanni di Bicci, the ancestor of the Medici. Left side, protected by a wrought iron gate the tombs for Piero and Giovanni, the sons of Cosimo (Foto)
A door opens to the two storey cloister. Here's the entrance to Michelangelo's Biblioteca Laurentziana. In the winter of 1524 Pope Clement VII decided to build a separate building for the precious book-collection of his family, which should be open for the public. The vestibule belongs to the most individual creations ever realized. The room is extremely steep, the overdimensional steps don't have a moderate relation to the ground area of the room. The pillars seemed somewhat 'locked'. But once you've reached the library you'll find a relaxed, harmonic atmosphare. Michelangelo himself created the lecterns and ceiling.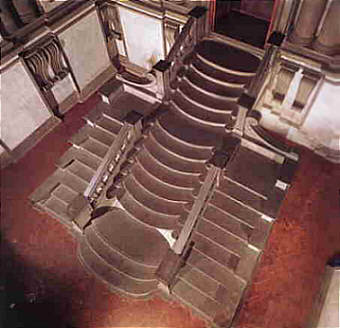 We were on the way to the Accademia. On the way we passed the Medici family palace. It is one of the unfriendly stony buildings you find so often here. Dark, thick, raw hewed rustica-squares with iron rings and fixtures for horses and torches. In the yard stands a surprising white Orpheus-statue in a cloister-like surrounding. As one of the first palaces in Florence it has a garden attached. This palace was also the venue of some dramatic events:






It is 1494. Lorenzo de' Medici has been two years dead. Magnifico's son Piero (lo Sfortunato) didn't take after his great father. He was arrogant, though he appreciated art. His undiplomatic tactic was to result in the fact that Florence was conquered by the troups of the Spanish king Charles VIII. One day later Savonarola and the Florentines chased him out to the town gates. Thankfully his father hadn't have to see this. The angry folk raged terribly in the family palace.
They ripped Masaccio's panel paintings, broke antique vases, bowls, precious glasses. Trampled on expensive carpets, Donatello's reliefs, manuscripts and books, stuffed Lorenzo's antique collection of coins into their pockets, damaged chests, ripped wallpapers and maps from the walls.
Young Michelangelo - at that time living in the palace - couldn't stop it. As quickly as he could he put as much as he was able to find into the dumbwaiter and locked its door. So he saved the most precious things. He and myself ask why the inhabitants of such a town - used to art and its value, grew up with it and appreciated it - could fall into such barbarity. They say the touch of art improves the character, makes us sensitive and accessible for feelings. The citizens of Florence proved the opposite. After this incident Michelangelo left the Palazzo Medici for good and fled from Savonarola and his pious madness. A new home he found far away in Bologna where he found by accident a patron and worked in the cathedral.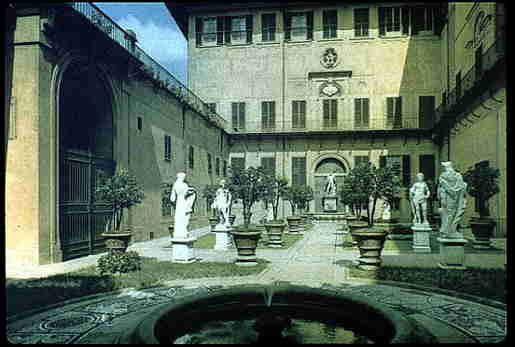 We arrived Accademia dei Belli Arti relatively early, so we didn't have to wait that long before we could enter. The first thing you see is the white gipsum cast of the Rape of the Sabine women by Giambologna (the original is in the Loggia next to the Uffici. No match, but you can go around and examine it closely).





A long corridor leads to the center of attention: David, on a tribune. Groups of tourists gathered and stared up. But first Michelangelo's 'slaves' deserves attention, who are lined up to the left and right. Some call the unfinished models 'prisoners'. Well, some say they are unfinished due to Michelangelo's immense working quota, but some say they are as they were intended. The figures peeling out of the marble, some without heads or limbs. (Foto) It was a Neoplatonic idea in which the artist was taught in Palazzo Medici. Plato said, the body is the earthly prison of the soul and Michelangelo believed that in each block of marble was hidden a certain figure he had to free. The marble whispered to him what he had to free.





But I couldn't take my eyes from David. Magically he draws me to him. I stood under him: a 500 years old, five meters high giant. What colour were his eyes? His hair? David was a Jew so I assume they are black, although it is said his hair was red.
Do such men exist? Every man who compares himself to David has to suffer complexes. I certainly did ;-) But who was his model? Torrigiani, the conceited, jealous, but pretty peacock who worked with Michelangelo in the Medici-Garden (and broke his nose in a quarrel)? Or was it Michelangelo's teacher in the Neoplatonic Academy, Pico della Mirandola, whose beauty was famous even beyond Florence's gates? It is said David has no model. Michelangelo has made him from his memory, alone for years with this beautiful man. What was he feeling?
The block of marble has a history. For twentyfive years it slumbered in the builder's hut of the duomo. The sculptor Duccio had started to make a sculpture for the facade of it but stopped when he saw a big fault that cut through the marble. Michelangelo felt the challenge and when he returned from Bologna and Rome he went on at mayor Soderini to give him this block to work at it and to create a miracle. Michelangelo knew what was hidden in there - the young shepherd David who was about to fight Goliath. An upright standing giant. David didn't need Goliath's cut-off head, his appearance is strong enough. His facial play is unwilling, hesitating, almost painful yet determined and with scorn on his brows. The right hand - disproportionally too big - but this was due to the classic interpretation of art that a big, stressed body part meant power (what does it say about David's relatively small penis?) - hides the stone he soon would put into the sling hanging over his left shoulder.
David was a symbol of Florence's freedom; the Medici had been banned and Savonarola's puritan tyranny was over. Florence had a republican mayor: Pietro Soderini. He came one night when David was almost finished into the working place. He watched the figure long and with pleasure and said finally that his nose was too long. Michelangelo stopped short but climbed the scaffold again, took a little marble dust from the planks and lifted the chisel. He pretended to hammer and let fall a little dust from his hand that fell to the ground. Soderini nodded satisfied and Michelangelo grinned. David's nose was still the same.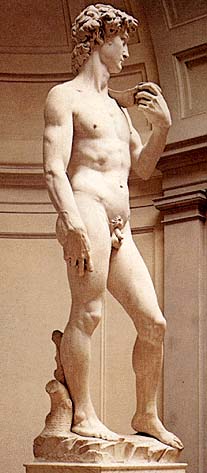 Do you think Michelangelo loved men only? Nobody knows for sure although all signs are for it. There were many contemporaries who wrote his biography, watched him, worked with him but nobody mentioned that he had a sex-life at all. I mean there was nothing, no man, no woman. Perhaps the small sentences about young pupils he cared for and looked after in his own bed when they were ill could be a sign, but who knows. Surely, there's the love to Vittoria Colonna, his late love - platonic love, I stress here. It was merely the interchange of two beautiful and creative minds, nothing more. But his love poems to Tommaso di Cavalieri should be obvious. Although you never know what he meant: the beauty of his young body or his brain. Although he also wrote poems to a young fop he fell in love with and he definitely wasn't worth it. But he left for us the most affecting poems.
I watched David's exposed muscles of his naked marble-body and asked myself how he was able to manage that they looked so vivid. As if they really lived, as if the stone would be soft as skin.
"Michelangelo suffered his whole life that his mind was tied to matter", it whispers beside me. "No matter what you do... nothing will result as you have seen it before your inner eye, or as it has sounded in your mind. You can't wipe off the fetters that bind your brain. You can't break through the surface of your body. Or you surrender to alcohol and drugs."
"Do you think he was opium addicted? Or any other drug?"
"Just the drug of love. He wasn't a loveable man. He was a genius, full of all the quirks such a huge genius has to have in consequence. Deficient in other parts. But what did it matter? Just art counts. I'd like to have lived with him."
"To be his male muse?"
"Why not?"
"He would look like you then". I pointed to David.
"Gosh, for that I'm not beautiful enough."
I said nothing.
But I promised to tell you about the difference between the original and copy. First there's nothing, except that he looks clean without verdigris. But at a second look you see signs of fracture on the arm that carries the slingshot. Well, after 500 years there's nothing other to expect. It's a miracle anyway how he could survive all those wars. It was in 1527 though when "David" was almost destroyed, and here's the reason: The Spanish king Charles V had became European emperor. His daughter was married to Alessandro de' Medici - son of pope Clement VII. Clement was by the way the bastard-son of Giuliano de' Medici who had been murdered by the Pazzi-conspiracy.
Now, this Alessandro was the governor of Florence. Unfortunately he didn't possess the amiability of his family, but he was unpopular, bad, deceitful and wasted the town's money. The people called him 'il Moro" - the Negro, because his mother had gypsy-blood and he was fairly dark.
At this time there was a confrontation between emperor Charles V and the French king Francis I. Francis was defeated by the Spanish king in the race about the emperor-position because Charles had been supported with the money of the Medici and of the Fugger-family in Augsburg, Germany. Clement didn't know what to do. He didn't want to throw over with both important rulers who wanted to reign south Italy and gain the crown of Naples. Finally Clement VII preferred Francis I so Charles V started to punish the Pope.
He stormed Bologna with 30.000 soldiers and was standing in front of the gates of Florence. In the town a civil war started. The riders of the Duke of Urbino - allied with Alessandro de' Medici - came to help and stormed Palazzo Vecchio where the Signoria had gathered and barricaded to dismiss hated Alessandro and to expel him. They threw everything they could get out of the windows, down to the soldiers of the Duke of Urbino: desks, tables, chairs, crockery. Until a heavy wooden bench was thrown.
Michelangelo saw from a distance how the bench was directly aimed at David, standing under it. He shouted but it was too late. The bank hit the arm that holds the sling. It broke off, fell to the ground and broke into three pieces. There was an eerie silence all of a sudden. Everybody stared alternating to the arm and to its creator. Then everything went fast. The sobered up people were ready to negotiate, Alessandro fled and Charles V didn't conquer Florence but went on to Rome where he staged the "Sacco di Roma", the most terrible plundering Rome ever experienced.
It was Giorgio Vasari, by then 12 or 13 years old, who had picked up the burst arm. He saved it and gave it Michelangelo later. This when their lifelong friendship started.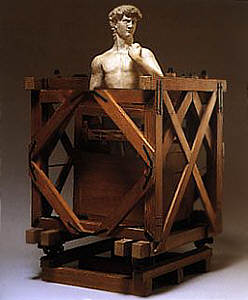 The picture shows the model of the cart with whom the statue had been transported from Michelangelo's working place to Piazza Signoria. It took three days.

More?