---
______________
3
______________






The quarter of the work- and craftsmen was situated in the old, so-called Dante-quarter between the cathedral Santa Maria del Fiore, Santa Croce and Palazzo Vecchio. Luca had always thought it gloomy with its narrow alleys and the steeply rising, rejecting, smooth pietra serena masonry. Alessandro's palace was just at the edge of this quarter, where in ancient times the tower houses rose wall to wall - higher than any business tower, higher than any clock tower. The remains of such a tower house still stood not far from the small church where Beatrice - Dante's secret love - had once married another. By the Florentines it was simply called the Dante- casa and today houses his museum. And not far from that was the house Michelangelo had once bought for his family, and that was also remodeled as his museum with lots of his early works. Tourists sauntered along, eyeing the houses, reading the stone plates inscribed with the parts of Dante's Divina Commedia, or halted under a wrought-iron balcony, whose flowerpots eked out a dried and miserable existence.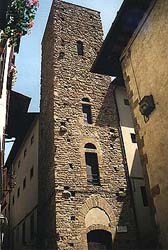 Luca saw their unease. This place made even the brightest day seem murky. Or romantic. It depended upon the point of the view. Today Luca decided to think it romantic - and just the thing to put him into the times of the early renaissance, when Masolino and Masaccio had used this path to get to the church of Santa Croce. The rough cobble stoned pavement seemed to be eternally wet. Moist and smooth, full of horse dung and trampled straw, smeared with the remains of vegetables, urine- and sewage-puddles, gathering in the gutter in the middle of it. Cats vanished into the houses' entrance gates.
Rosso's sneezing catapulted him back into reality. "Here we are", he said, turning into another street that was fortuneately bright. "Enzio Celli & Figli" was painted over the doorway in large, old fashioned letters. Luca followed his friend through the entrance, passing the saleroom where a carrot-red-haired lad winked at Rosso, into the workshop of his uncle. It wasn't exactly bright in there, and Luca could only make out the shadows of all the bags and etuis, girdles and belts hanging from the ceiling or from hooks that were spread along the walls. He breathed in deeply the good scent of the leather. Rosso was doing the same beside him and smiled. "Zio, this is Luca, you remember him?"
Enzio Celli turned upon his piano-stool and peered over his half moon glasses. His grey hair stood on end over his forehead and his skin seemed as tanned as the leather he was working. "Ah, ciao Luca. I haven't seen you for a while. How are you doing?"
"Well, fine, Signore Celli. Um, I have a favour to ask. Would you be so kind as to have a look at this?" He stretched out the book, still wrapped in his handkerchief. "I've had a mishap with a cup of coffee. The problem is, this is not my book and the owner will kill me if he sees it. You understand?"

Enzio took the book and pulled back the cloth. He took in a sharp breath. "Jesus Maria", he whispered. Luca thought it was because of the bad condition of the leather binding. "This is very old, ragazzo. Where did you get it from?"

"Well, as I said, it's from a friend." Luca eyed the book jealously at the same time as eyeing Rosso's uncle who had stood up, searching for a magnifying glass. He mumbled something while his narrow, bent nose almost touched the diary. The nose went along each of the scars and cracks of the old leather, including the nasty, dark coffee blotches and the swollen, torn, dangling pieces. He sniffed at them. "Must be early fifteenth century. By the Holy Face of Lucca - where did you get it from!?" Enzio's voice had become eager.

"I know it's old, signore. Can you repair it?"

Enzio swayed his big head from side to side. "Might be difficult. But I'm sure I can provide matching leather." His green eyes sparkled knowingly. "We are in Florence, ragazzo. Everything should be possible here." He turned to the book again. "And this here?" His long, slender finger touched the ripped and partly blurred pages of the diary. "What are we going to do with this? I'd like to show it to my brother who knows about old paper." Enzio looked sharply at Rosso. "What are you doing here anyway? Shouldn't you be in the paper shop?"

Rosso sneezed as answer. "Don't feel too well."

"Then march off to bed. What are you standing her for, polluting my workshop with your bacteria, eh?"

Rosso pouted and this never missed its effect on his uncle. He smiled mildly. "All right, ragazzi, up for a cappuccino? Antonio!" he shouted into the shop. "Would you be so kind - three cappuccini? No, add one for you."

A muffled cry came from the front shop and shortly after they heard the coffee machine gargling. Enzio took the book and placed it upon an ancient looking table, not before putting a clear sheet of paper under it. "Let's have a closer look", he said, but he was interrupted by a flock of loud chatting Japanese in the saleroom. At least Luca recognized the funny language as very Asian. Enzio hurried in and helped Antonio with the tourists.

Rosso and Luca looked at each other. "So, this is Alessandro's book, and he doesn't want to give it away. Well, why should he? I'm sure it's been in the Gondi's family property for a long time, right?"

Luca nodded and fought with himself not to reveal to his friend its real meaning. And what would happen, if he ever told the true story of the unsolved riddle of Masaccio's whereabouts.

Antonio appeared with a tray of cups and biscuits upon the saucers. Luca knew him as Rosso's cousin with the same red hair in different kind of shades that all the Celli's had. He didn't listen to their family chatter - interrupted by Rosso's sneezing and snorting. Instead of he tried to sort his thoughts. Alessandro must be up by now and he wouldn't be pleased that Luca had left him without their usual early morning dally. Involuntarily Luca grinned.

"Now", Enzio had returned, taking his seat at the table again, inspecting the brittle pages. "What ancient handwriting", he mumbled, slurping his coffee. "Tried to decipher it?"

Luca hesitated for a brief moment. "Tried yes, but not successfully", he lied. Perhaps Enzio wouldn't be able to read it. Again the older man pulled out his magnifying glass and examined the letters. "Hm. Seems to be some sort of a diary. Here's something about Budapest. That's Hungary, isn't it? And here's the date: January 1429." He whistled through his teeth. "As I said, early fifteenth century." He looked up. "Alright, Luca. Leave the book to me and I'll see what I can do. You mustn't be afraid about the leather. We'll find the matching colour, and I'll tan it until it looks ancient. I promise. About the paper.... I'm not that sure. It's still a bit damp. It needs a professional drying."

Luca looked worried. Could he leave the book here? Enzio smiled at him and patted his arm. "You must trust me her, ragazzo."

Luca nodded finally. "Good. I'm very thankful. And... we'll talk about money then. When shall I come back?"

"Money?" Enzio Celli's face had clouded over. "Do you want to insult me? This is a challenge I've waited for too long."

Rosso and Antonio grinned.

"You return next week and I'll be able to tell you more, d'accordo?"




*





"Fine", Rosso said, when they were out of the shop. "What are we going to do now? Have you heard from Tris? When does your workshop open again, by the way?"

"Next Monday. The last thing I heard from Tris was that he was alternatively trying to call his policeman or to see the call-boy again."

Rosso laughed. "My poor ass. There sleeping dogs awake, eh? Have you told him to be careful? I mean, in all ways."

Luca nodded. "Sure. Hopefully he'll keep his senses when it comes to the hot action." At the same moment he remembered that he and Sandro had unprotected sex too lately and he swallowed dryly.

"Well, I'm off to the shop", Rosso said. "Call me if you have any news. What will you do if Sandro wants to see the book?"

Luca shrugged. "I don't know, mate. Divert him the best I can."

Rosso grinned and gave him a smack on the shoulder. Wiping his nose he went away and waved with his handkerchief.


Luca stood forlorn. He was very thankful for Rosso and his uncle, and perhaps they would be able to repair the disaster. Although - of course Sandro would notice. But then the damage would be repaired and he would forgive him. After all it had brought something good. He had found the missing pages and as far as he had understood Masolino's scribbling, the secret was solved. What to do now? How could he tell Alessandro about it without giving away the place where he had found out? Impossible.

Luca stuffed his hands into the pockets of his jeans jacket and walked along, back to the narrow main street, seeing the queue that had already been built by waiting tourists in front of Michelangelo's house. Aimlessly he walked on, his head bent while his thoughts somersaulted without finding a way out of his dilemma.

He drifted between the alleys and streets, then encircled the quadratic bulk of Or San Michele - once a granary, later remodelled as church since inside was a miracle-working picture of the Madonna. On all four sides the best Artists of Florence had created statues of holy men, as commission works of Florence's guilds.

Luca remained in front of Donatello's "Saint George", standing upright in his niche in the wall, stubborn against wind and weather, holding his shield protectively against his thighs. Had Maestro Donatello ever learnt the truth about the whereabouts of his young contemporary Masaccio? Masolino, by all means, had fled to Budapest - as the date said in his diary.

Luca drew a wide circle through Via Lamberti, coming briefly to a halt in front of the 'Tabasco Bar' and he remembered his first time there with Sandro. Perhaps he should go out with Tristano again to take his mind off things. In a couple of days Sandro would return to Pisa and if Luca could survive the days until then without Sandro asking for his diary... A bit more confident he moved on, bought vegetables and fruit in the next alimentari and then crossed Piazza Signoria where people stood in groups, being informed by their guides about the meaning of this central place in dozens of languages.

For a while Luca watched the spectacle. Suddenly he looked at the place from the point of a non-inhabitant: The huge fountain with the even larger white and naked Neptune, surrounded by green, naked nymphs. To his right was an open loggia with one of his favourite statues - naked Perseus, holding the bloody head of Medusa high in the air - and beside him the round buttocks of a Roman soldier, abducting a woman of the tribes of Sabina.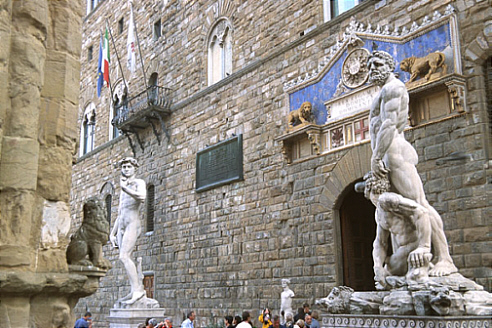 Luca stared at the white arse. Enticing. In front of him there was the monster of Palazzo Vecchio - the town hall - growing high into the air, brown and defiant and armed with battlements, guarded by the "Melon-squeezer" to its right and Michelangelo's "David" to its left. Naked, beautiful David, a bit dirty from pollution and rain, but upright and ready to protect the Republic. No wonder Florence was a gay metropolis, Luca thought grinning. Naked guys wherever you look....

He draw closer to the entrance of the Town Hall. A glass case had gained his attention. Perhaps there was something important this time. No, just marriage announcements. But wait...




"Alessandro di Ser Matteo di Gondi-Lucertola

and

Leonora di Francesca da Firenzuola

announce their intention to enter into holy matrimony. The festivities will take
place in the Salone Cinquecento of Palazzo Vecchio on Sunday, 19th,
10 o'clock sharp."




Luca blinked, frozen to the spot. This could only be a mistake. No, it wasn't . There was only one guy with that name living in this town, as well as there was only one Leonora. Leonora? Well, Leoni anyway. Sandro's uncle Arrigo had been quick to arrange whatever it needed to separate his gay nephew from his boy lover. Great. He bet that not even Sandro knew about that. Probably he would be the first to bring the good news. Luca grimaced. He couldn't think it funny. Not anymore. Sandro talked about a quiet marriage with no witnesses other than the ones that were needed, and now this great announcement for the whole of Florence to see. In exactly five days his boyfriend would marry.

Luca crept the short way behind the town hall to Palazzo Gondi, passed through the bronze door and remained in the yard where the date palm sadly had dropped its fronds and the red Ferrari was waiting along with the motorbike. He fought the urge to run away, jump into the car with Alessandro, leaving Florence behind for good. But bravely he moved on into the kitchen where he found his boyfriend, bent over the newspaper with a cup of coffee between his fingers. "Hey", he said. "Had fun with Rosso? What was so important for you to leave me alone in my cold bed, that you favoured the redhead to me, eh?"

Luca placed his bags upon the kitchen table and unpacked them. "Nothing important, really." He examined the zucchini and the fennel, the tomatoes and the herbs. "I'm going to cook", he announced.

"Wow. A recipe from Tris?" Alessandro unpacked the other bag with Sicilian lemons and oranges, figs and maroons. Then he wrapped his arms around Luca and held him tight. "I panicked when you weren't beside me this morning. Have you told Rosso about all the shit that's happened?"

"No. Nobody knows. Except the whole town."

"Huh?"

Luca freed himself from Sandro's embrace. "I've read your marriage announcement at Palazzo Vecchio. Sunday at this time you'll be married. I bet it's in your newspapers too."

Alessandro, suppressing his rising anger, sifted through the newspaper to the final page where it was emblazoned with the letters: "The Prince of the Lilies to marry." Silently he read the article and then turned, as white as the wall. "I'll kill Arrigo."

"Well, that's what you wanted. That's your future, isn't it. Sooner or later it doesn't matter. And if you should ask me again: no, I won't be the witness to your marriage. You must look for someone else." Luca stepped closer. "Do you really think you can make a dope of me in front of all eyes?"

Alessandro flopped upon the chair and closed his eyes. What had he got himself into?

Without another word he vanished to the phone in silence. Luca could hear his clamor from in the kitchen. Angrily he chopped the basil and the parsley, along with a clove of garlic and pine kernels. All the clamor wouldn't help Alessandro, he thought. The step had been taken and there would be no return. Luca was fed up anyway by Sandro's eternal "yes-and-no-I-don't-know- I'm-not-sure-wait-a-while". Sandro never knew what he wanted. He wanted the money one day, then he wanted freedom. And in the end Arrigo's deceitfulness and Alessandro's greed had won. He had stressed that he would do it for both of them. Fine. Luca wiped his hands and chucked the towel into the sink. If he thought that Luca Montori would be a slave in his hands, dying for a few pats and a weekly dinner that Alessandro paid for, he was wrong. The Montori's weren't any less proud than the Gondi's.

The sharp knife chopped the fennel and zucchini like butter. This meal wouldn't be by all means as good as Tristano's but it would be all right. The throw the tagliatelle into the boiling water and the vegetable into hot olive oil. And surprisingly he experienced for the first time the secret of cooking: your cloudy thoughts vanish and you relax and everything has a solution. Luca smiled while he stirred the pasta with one hand and the vegetables with the other. Sandro's screaming had stopped, but he still could hear him talking. A minute later he came through the kitchen door with a red face and furious eyes. Luca held out the cooking spoon with some of the sauce he had made from the vegetables. Sandro stopped short, then he tasted. The angry boiling in his blue eyes gradually vanished.

"You're right, gioia. Let's enjoy the meal. We can't change it anymore."

He pulled out some deep plates. "Will we survive the year?"

"You sound as if we won't see each other anymore", Luca said. His heart pounded as he waited for an answer.

"Of course we will. Leoni will vanish to Fiesole, after the marriage. I'll return to Pisa and continue my study."

"And when the baby is born, what then?"

Alessandro rolled a tagliatelle around his fork but said nothing. He didn't know. He didn't want to think about it. His mind swirled from all the things Arrigo had told him. About the marriage. What there was to arrange before then: invitations, dinner, clothes. At least Alessandro could stop him from arranging the second marriage in the church - probably with padre Castruccio. Pah. He gobbled up the pasta and quenched his thirst with a glass of wine he had pulled out of the fridge.

Luca ate silently and watched him. Alessandro's face was closed, hard and unhappy. He knew there wasn't a way back from this. They left the empty plates where they were and went upstairs to Alessandro's room where they loved each other with a desperate passion.




* * * * *




The next couple of days Luca was busy with helping Alessandro to sort out his needs, the question of clothing and flowers and supported him when Leoni came every day to ask for this and that. Arrigo had sent out invitation cards to all of his business friends and to the families involved. Anastasia had arrived from Fiesole and was staying at the Palazzo Gondi to help the young men. She looked none too happy, but said nothing.

Sunday morning started as bright as a Spring's day. Luca had left Alessandro in front of his mirror, trying on his black velvet-suit with the lace jabot, and had gone home. He couldn't bear it anymore. No way would he be among the other guests at Palazzo Vecchio. Instead he would accompany his family to mass at Santa Croce.

Of course his family knew about the event, but had avoided the subject. But when Clarissa saw her son miserably entering the hall, where they were waiting for Dante to get ready, she couldn't bear it anymore. She pulled Luca aside into the living room, shouted to her husband to go on, and examined Luca from head to toe. He seemed to have matured over the weeks when she hadn't seen too much of him. Still tanned from his holidays, his face was full of sorrow and anger. The brown eyes had a new, determined look, and astonished she realized: her youngest son had grown-up.

She took off her little black hat and put her handbag aside as she took Luca's shoulders and pressed him to her breast. "Ten o'clock, right?" She felt him nodding and then his body shaking from suppressed sobs. She patted his back. "I'm not gonna tell you that we've seen this coming, gioia. That we and them have nothing in common. That they will use you and throw you away when it suits them."

She held him back and peered into his face. "I'm not going to tell you all this because it don't have to be the truth. If he really likes you, there will be a way out. Although...." she swayed her head. "I can't approve of this strange arrangement. Alessandro doesn't love the girl, does he? So, it's not fair. But she's having his baby..."

Luca freed himself. "It's not his. It's all a lie to outsmart the padres from Santa Maria Novella, to get his inheritance. He has to marry and have a son before the Gondi-inheritance will be his."

Clarissa's eyes widened. "That's the deal? Jesus Maria. That's unbelievable. And the girl... does she know?"

"She does."

Clarissa sank into the armchair and made the sign of cross. That moment the door opened and Giano peered into. "Are you coming?" Then his face lit up.

"Luca!" With quick steps he entered the living room and embraced his brother. "I haven't seen you for so long." He looked into Luca's face. "You've changed. And grown", he added grinning. Then his smile fell when he remembered the day. He looked at his mother "You'll be late for mass, Mamma. Go and I'll care for the piccolino."

Clarissa sighed. "All right, boys. I'll make your exxcuses at church." She stroked Luca's hair as well as Giano's and left her sons alone.


Luca wanted to ask so many things. About Tino and their holidays in Germany, but Giano was showering him with questions, until Luca gave in and told him the whole story. He had to. He couldn't allow himself to lie to his family. It was enough that he had to face his older brothers again and doubtless their nasty comments about a fag going to be married.




*




Alessandro stared at the pompous freschi. The whole, large room of the five hundred was painted wall by wall with motives of Florence's victories over Pisa and Siena. Vasari had done a good job, he thought, busy with not listening to the notary's announcements - who was enthroned behind a monster of table, dressed with a dark fur collar and a red velvet biretta - and his unctuous litany about the importance of matrimony to society. Instead he looked up to the gilt decorated ceiling with paintings, glorifying Cosimo the first. Then he imagined the walls empty and the gold-locked Leonardo da Vinci with his clean red cloak sketching the walls with his version of the battleground of Anghiari while on the other wall Michelangelo - gloomy with his black coat and stockings and his black, wild shock of hair spread the cardboard and pinned it to the wall: his version of the battle at Cascina.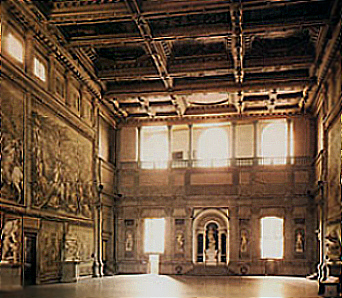 Music sounded and Leoni entered the hall, solemnly guided by her father in a grey suit and top hat, while Leoni was wearing a dream of ivory coloured lace with a meter long train that some flower children carried and tried excited to spread it out neatly.



Michelangelo was alone, absorbed in his painting, filling out the red Sinope-sketches with his colours. Young, muscled soldiers gathering in their camp at the park next to a small river where they had their early morning bath when the signal started - deep sounds of horns, indicating the battle was to start. Leonardo clambered his trestle with the help of his servant Salai, trying out a new kind of fresco painting with glue mixed with colour, until the disaster was perfect. The painting didn't want to dry. Salai lit fires in huge cauldrons to hopefully dry the paint, but instead of the unfinished fresco started flooding down the wall, destroying bit by bit the horses and the soldiers entangled in their fights.



Leoni now stood beside him and smiled at him. Alessandro remained stern. He had avoided looking at the faces behind him: Anastasia with black lace covering her face. Arrigo with his wife and Emilio, the mayor, both in black suits, a self-satisfied grin around their mouths; members of noble families, Leoni's parents, and even Emilio Pucci next to his young boyfriend - they had all gathered to watch his shame. Alessandro lifted his head and slightly shook his brown locks.
"... by virtue of my duty and all rights transferred by the town of Florence, I ask you, Alessandro..."

Alessandro answered with firm voice, not looking at Leoni who promised herself a minute later. Smiling, her father put her hand into his while Alessandro fingered the rings from his breast pocket. The rings Arrigo had provided and paid for. Leoni's fingers trembled.



Leonardo was embittered and waited for Michelangelo's mockery. But the Florentine was an Artist from head to toe and didn't think in the least to mock his competitor. The hall remained empty without decoration because Michelangelo gave up as well.





"You can kiss the bride."

Automatically Alessandro lifted Leoni's veil and pressed his lips upon hers. Shouts of joy wrested from many throats and suddenly both were encircled by people wanting to congratulate them. The signing of the papers was a blur. In all the jumble Alessandro found himself opposite Emilio Pucci who shook his hand, a regretful expression on his face. "I thought you would be true to yourself; to who you are", he whispered.

Leoni at his side, Alessandro left the room, defeated as Leonardo had once been.


Anastasia had prepared a room for Leoni. In no way did she want to lose face by being shunted off by her husband to the Gondi's country house so shortly after the marriage. She had to stay at the palazzo, at least for one night. Somehow Alessandro survived the festivities, held in the restaurant of a hotel. He drank too much and had to be driven home by Arrigo.

Leoni pouted. "I want my wedding night", she said in her little-girl's voice, but Alessandro laughed at her. "All you get is the bed Anastasia made up for you. My room is locked." He raised his finger in front of Leoni's nose. "For good. Capisce?"

Finally alone in his room he phoned Luca. He didn't answer. Alessandro laughed to himself. What do you expect? To spend your wedding night in the arms of your boyfriend?

When he lay naked between the sheets, his head swirling from the alcohol, the dances, the laughing, the chattering, the best wishes, his mobile played its melody. Quickly he grabbed it. "Luca!" he shouted. "Where have you been?"

"Out with Giano. I had to tell him, sorry. I can't take it all by myself."

"That's all right. Will you come over?"

Silence on the other side. "I'll come."


Luca hurried through the deserted night-time streets and he had forbade his mind to think. If he had done, he would never have gone. But now he ran up the gloomy staircase where the dusty, red carpet muffled his footsteps and opened the door to Alessandro's large room which was lit by uncountable candles standing upon the table, the cupboards, even on the floor boards tiny tea-light candles. He blinked. The door to the loggia was open and let in a soft breeze; soft enough not to blow them out.

Alessandro waited in the shadows with nothing more on than his washed out blue jeans, embracing his body like a second skin.

Luca's heart surged. Without thinking he dropped his shirt and kicked off his shoes. The distance was short and yet he thought to cross a mile before he could dig his fingers into Alessandro's locks. He felt cold like a marble statue and so Luca rubbed Alessandro's arms and his fingers until the blood started to pulsate again. "It's my wedding night", Alessandro said with flat voice.

"Where is she?"

"Down in the guest's room." Alessandro stepped back. "Everyone was there. Family, friends, acquaintances. Even Emilio. He was disappointed with me."

"Emilio Pucci?"

"With his boyfriend." Alessandro approached him again, cupping Luca's face between his palms and drew each line with his fingers. "Love me", he said softly almost inaudible. "Tomorrow I'm off."

Luca wondered if Leoni would hear the cries in the night. The heavy panting. The promises. She wouldn't of course. The walls were thick.


The candles were out when he lifted his lids in the morning, entangled with Alessandro's limbs. He was lying half over his boyfriend's body, feeling his naked butt and his own penis fit perfectly into the cleft. He was sore and Alessandro had to be too, but still he felt the urge to continue and never stop. May the morning never dawn.

He nibbled at Alessandro's ear and tickled his nose with his own hair. He felt the heaving breast, the flat stomach and embraced his member with his palm. It jerked and Alessandro's eye lids fluttered. He turned sleepily, smiled and pressed his head against Lucas' hair. "Is it morning already?" he moaned. "My ass is pulp."

Luca laughed his pearly laughter. "Mine too. Well, let's care for it, all right?" He was about to crawl over Alessandro's body to step out of the bed, but Alessandro held him. "Where are you going? I said my ass is pulp, but not this." He guided Luca's hand over his abdomen into his hair and further down. Luca grasped the rising penis and stroked his balls. Then, climbing over Alessandro's body he devoured it whole, while at the same time he felt grabbed by his thighs and his buttocks cupped. He sensed Alessandro's warm breath; his tongue, licking his way into his hole and back along his scrotum to his ball sack.

Luca tried not to bite into Alessandro's cock with sheer lust and instead succumbed to the sensations and his own actions.

Later in the bathroom they cared for each other until they appeared washed, combed and creamed at the kitchen table where Anastasia had already prepared the breakfast. The smell of wafers reminded Luca of home. His mother would worry. But he put the thought aside because Leoni appeared, tired and with dark rings under her eyes. She stood rooted to the spot when she saw Luca sitting next to her husband, sipping coffee and orange juice and chewing at the wafers.

Alessandro gave her a "Good morning", but she hardly answered. Instead she threw a sinister look at Anastasia who sat indifferently, eating like a sparrow.

"You allow this, Anastasia?" she asked, taking a cup and pouring herself coffee. Then she pulled out her box of cigarettes and lit one.

Alessandro took it from her mouth and stubbed it into the ashtray without saying a word. Leoni looked flabbergasted.

"I'm not his mother, Leoni", Anastasia said firmly. "I'm just an employee of the Gondi-house. But you shouldn't smoke, in this point Alessandro is right." Leoni gasped for breath. "Fine. I'm going to live at the Villa at Fiesole, so you better learn to fulfil my wishes, Anastasia. For instance you can pack my things. Now."

Anastasia rose, but Alessandro held her arm. "Stay put and finish your breakfast." And to Leoni he said sharply "If you ever dare to treat Anastasia like a slave you've got a surprise coming. You will listen to her and do what she says, capisce?"

"Pah", Leoni scoffed. "You have nothing to say about it. You fag. Sitting at on wedding morning with your lover without any shame. And where's your ring anyway?"

Alessandro's face was red and Luca saw that he wanted to slap her face. But he restrained himself and said as calmly as possible "Watch your mouth. And make sure you hold to your part of our deal. Otherwise you'll see not a cent of the money."

Luca had stopped eating and searched for Anastasia's eyes. She winked at him soothingly.


A few hours later Leoni stood ready to leave Florence with dozens of suitcases and bags. Alessandro shoved her and Anastasia into a taxi. His own suitcase stood beside his Ferrari.

He pressed a parcel into Luca's hands. "A little present for you so you'll not to feel too lonely." Luca's protested but he hushed him with "Nothing expensive, don't worry." He embraced his body and kissed him for a long time. "See you next weekend, gioia. And take care of the diary. Have you taken it to your home?"

Luca's heart pounded wildly. "Well, yes. But I'll bring it back here if you want."

"Just make sure it's safe, all right?"

Luca nodded. Alessandro stepped into his car and drove through the entrance gate. Luca remained alone with the lonely palm and the motorbike and the whole large palazzo behind him. Then he remembered the parcel in his hand and ripped off the paper. A Discman appeared in shiny silver surface and matching ear phones. And a self burnt CD with all the favourite songs that they had listened in the night.
---